What to do at Kahului Airport (OGG)
RESTAURANTS AND FOOD
Find information about the restaurants, fast food options and food stores located in Kahului Airport terminal.
See Restaurants and Food at OGG
SHOPS AND STORES
Check all retails outlets available at Kahului Maui Airport.
Vistor information
For any travel-related assistance, the airport has several special information desks manned by knowledgeable and courteous staff to assist traveler. Staff is available from 07:45 am to 9:45 pm daily. Alternatively, passengers can call at (808) 872-3893 for assistance if they find the information desks closed. For inquiries, please contact: dot.air.vip@hawaii.gov.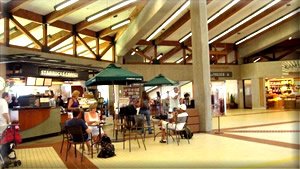 ATMs and banking services
ATM services at Kahului Airport can be found at the ticket lobby, baggage claim area, and on the second floor of the Central Building.
Lost & found
Have you lost any personal belonging? See the Lost & Found page information
Services for passengers with special needs
Kahului Airport provides assistance to passengers with special needs courtesy their porter service. The airport is manned by trained personnel that provide wheel chair and other assistance to passengers with disabilities. The airport's restrooms, parking lots, and public telephone systems are all equipped for passengers with special needs.

Wi-Fi
Free WiFi is available at the airport. Select the free WiFI network KOA Free WiFi.
smoking areas
Kahului Airport is a no smoking facility. Smoking is prohibited from cabin to curb.
In addition, smokers must also be at least 20 feet away from any doorway
INTERNET SERVICE
There is a site to access Internet on level 2 of the Airport.
BAGGAGE STORAGE AND LOCKERS
There is no possibility of baggage storage and lockers at Kahului Airport.
OTHER SERVICES
- Duty Free shops
- Greeting services
- Automated external defibrillators
- Cafeterias and restaurants
LOUNGES
Hawaiian Airlines Premier Club Lounge: Main Terminal. Open from 5:30am to 10:30pm. Services:Wi-Fi, Newspapers and magazines, TV, among others.