Welcome to Maui
Welcome to Maui, the land where bliss comes naturally. The stunning coastline, warm waters, and cool breeze, typical of a tropical paradise are what mesmerize people who visit the island. The incredibly beautiful island of Maui is the second-largest Hawaiian Island blessed with an abundant rainforest on the eastern shore filled with a variety of exotic flora and fauna. The island's sandy beaches, fine surf, and luxurious resorts with opulent gardens, pools, restaurants, and golf courses, attract tourists from all over the world.
Natural wonders of the Magic Isle
Known as the 'The Magic Isle', Maui Island has been voted as the best island in the world several times, paving the way for an indulgent and luxurious vacation experience. While the island's alluring beaches beckon one and all, Maui has much more to offer. The Haleakala National Park is home to one of the largest dormant volcanoes with its towering cinder cones. The park ranges through five different climate zones and is home to the Silversword, an threatened species of plant that grows only above 6,000 feet. The park is one of the best places for hiking on the island. The spectacle of sunrise atop Haleakala is an experience no one will ever forget.
The heavenly beaches of Maui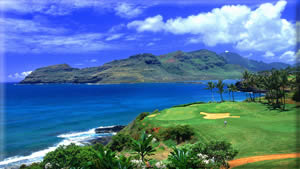 Maui is home to the best beaches in Hawaii, each with their distinct characteristics. While some are full of crashing waves others are calm and tranquil, just perfect for a day of relaxation. The world's top wind surfers head to Ho'okipa Beach on the island to enjoy riding the swells. Among the best beaches is Hamoa Beach, a perfect place for snorkeling, scuba diving, and swimming. During winter some of the biggest waves hit the beach. Kaapali Beach is another hotspot for water sports including parasailing, wind surfing, and jet skiing. The island is proud to have one of the prettiest beaches, Oneloa Beach, with gorgeous sand and pristine waters that attract snorkelers and sunbathers alike.
Maui – A paradise for everyone
Maui Island offers you a host of luxury resorts and beachfront paradises to soak in the sun and enjoy the tranquility of the area. Of course, true to Hawaiian hospitality, you can expect plenty of personal pampering and some remarkable opportunities for underwater adventures. A taste of Hawaiian cuisine will unveil some sensational, lip-smacking delicacies that have tourists coming back for more year after year. Maui is not just a water sports paradise. Golf enthusiasts will come across some of the most renowned golf courses to tee off. Then again, nature lovers have much to look forward too as well. The magic isle has something for everyone.