Kahului City - Maui
Kahului, located on the northern coast of Maui Island is the hub of commercial and tourist activity on the island. The Kahului International Airport serves flights to and from the U.S. mainland and other Hawaiian islands, while Maui Harbor is the distribution point for agricultural products produced on the island. Kahului is home to an eclectic mix of American, Asian, Hispanic, and African-Americans that are proud of their community style of living.
Kahului – A dream city in many aspects
Kahului may exhibit all the trappings of a big city but remains a country town at heart, which comes as no surprise when the island is blessed with fertile lands, pristine beaches, and a lush landscape. The city's residents are proud of their rich tradition and culture, which is most prominent here among all the other islands in Hawaii. Tourists make their first stop at Kahului on their way to explore the natural wonders and numerous opportunities for some relaxation and recreation on Maui. Not surprisingly, Kahului was known as the island's 'Dream City' due to the number of job opportunities that plantation workers had earlier on, paving the way for major growth and development.
A place to shop and soul seek as well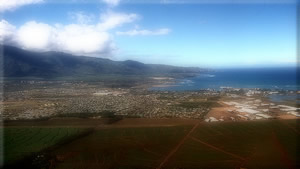 Kahului is one of the biggest shopping centers in Maui with a number of establishments including Home Depot and Wal-Mart setting up shop in the city. Large malls and stores are now common sight in Kahului while the Kahului Shopping Center on Kaahumanu Avenue is a favorite spot for tourists and residents alike. The Queen Ka'ahumanu Center is a premier shopping zone with hundreds of shops, restaurants and theatres. There are plenty of bakeries, bars, restaurants that serve some of the finest seafood delicacies, trendy boutiques, and souvenir shops that cater to tourists and residents. Combined with the most picturesque sights and scenery, Kahului has something for everyone, right from the adventurous to the soul seeker.
Blending with the Aloha spirit
Kahului isn't short of attractions for the discerning traveler. The Kanaha Beach Park, close to the airport, is a tropical paradise along Kahului Bay, presenting visitors with magnificent views of the West Mau Mountains and Iao Valley. The Kanaha Pond Waterfowl Sanctuary attracts tourists looking for a close encounter with endangered Hawaiian birds that are found only in the area. A short drive away is Paia, an old sugar plantation village, the epitome of Hawaiian warmth and hospitality, and also home to a number of antique stores and specialty shops. For those who want to blend with the Aloha spirit, Kahului city is worth a visit.