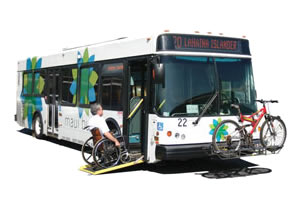 Navigating a strange new place is a challenge for the first-time tourist. Figuring said city's public bus transport system (or train, or street cars, or whatever kind of public transport system there is) is an even bigger challenge. Take, for example, Maui: island paradise with various bus routes and transfer junctions. It can be confusing at first, especially since the first time tourist – in this case, YOU – has no idea where he/she is or where he/she is going. But don't worry. We're here to show you the ropes. All you have to do is sit back and read this article, and have a map and pencil in hand. You might want to draw circles and mark some important public bus stops.

The most important thing to remember is that you must begin with the Kahului airport, where you'll arrive. There are two public bus routes that stop there, the Upcountry and Haiku Islander routes. You won't have any problems if you're going along these routes, but you'll have to ask around to locate the buses for the others. They're all within Kahului, though; just ask around and you won't have a hard time finding them.

There are 10 public bus routes in total. Here they are, listed according to proximity to the airport. The important stops are included.

Haiku Islander – Kahului-Paia-Haiku
Upcountry Islander – Kahului-Pukalani-Makawao-Haliimaile
Kahului Loop – Kahului only
Wailuku Loop – Kahului-Wailuku
Kihei Islander – Kahului-Maalaea-Kihei-Wailea
Kihei Villager – Kihei-Maalaea
Lahaina Islander – Kahului-Wailuku-Maalaea-Lahaina
Lahaina Villager – Lahaina only
Kaanapali Islander – Lahaina-Kaanapali
Napili Islander – Kaanapali-Kahana-Napili
These names and places may not mean anything to you now, but these public bus transport routes are the cheapest way to get around the island. It definitely helps if the place you're going to has the same name as these public bus routes (for example, the Lahaina Islander route for Lahaina; please note that the Lahaina Villager route covers Lahaina but doesn't go to other places). However, some tourist attractions are beyond the main transport routes so you'll still have to allot some money for shuttle services.

General boarding costs only $2 for all routes. You can buy daily and monthly passes from the Maui public bus drivers. Daily passes cost $4 for all routes. If you're planning on staying for a month or so and exploring the Maui, you can buy a monthly public bus pass at $45.

If it's still confusing, you can always check the up-to-date official prices, schedules and maps here at this website: http://www.co.maui.hi.us/ It has all the bus routes, schedules, and some luggage requirements so you don't get held up.

All this planning sounds so stressful, isn't it? Well don't worry yourself too much. Maui is a beautiful paradise where you can relax and rest to your heart's content. Even if you get lost, just keep your chin up and don't hesitate to ask the friendly security guards/guides/random passersby where to go. Think of it as mixing with the locals. Good luck and have a happy trip, first-time tourist